L'éditeur Skybound Games officialise l'arrivée d'une compilation regroupant l'ensemble du travail de Telltale Games sur sa série The Walking Dead pour le 10 septembre prochain sur PlayStation 4, Xbox One et PC.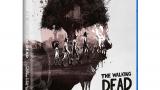 Cette "The Walking Dead : The Telltale Definitive Series" contiendra les quatre saisons originales, la campagne Michonne et le DLC 400 Days dans une boite sur consoles de salon pour 49.99 dollars / euros ainsi qu'en numérique au même prix sur les trois supports.
A cette occasion, les jeux bénéficieront d'un nouveau filtre graphic black en hommage à la BD visible sur la vidéo ci-dessous.