Fiche de jeu / PSP / Final Fantasy Tactics : The War of the Lions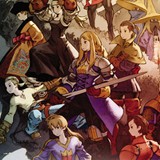 Final Fantasy Tactics : The War of the Lions
Test publié le 4 novembre 2007
8.5 / 10
Verdict
Enfin. Après 10 ans d'attente, Final Fantasy Tactics est, officiellement, à la portée de tous les européens. L'anglais utilisé pourrait en rebuter certains mais l'univers enchanteur et la richesse du gameplay méritent amplement qu'on s'y attarde. A faire si vous aimez les jeux de stratégie, à faire si vous aimez l'univers d'Ivalice, à faire pour succomber aux charmes des musiques et des cinématiques, à faire pour les bonus non négligeables de ce remake, à faire pour combler ce vide présent au fond de vous depuis une décennie.
Test Final Fantasy Tactics : The War of the Lions (PSP)

›
Dossier publié le 26 novembre 2008
A l'approche de Noël, la Rédaction vous propose un petit récapitulatif des packs PSP disponibles en cette fin d'année, ainsi qu'une liste de jeux à ne pas manquer.
Médias du Jeu
Toute l'actualité du jeu sur PSP
Le forum du jeu