Fiche de jeu / PS4 / Lara Croft and the Temple of Osiris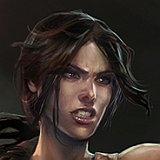 Lara Croft and the Temple of Osiris
Test publié le 1er avril 2015
6 / 10
Verdict
Lara Croft and The Temple of Osiris reprend fièrement les grandes lignes de son prédécesseur, en apportant plus de profondeur au jeu en ligne grâce à un mode quatre joueurs mêlant habilement coopération et compétition. Quelques défauts subsistent, et le challenge aurait pu être rehaussé, mais tant qu'il y aura des joueurs pour nous accompagner dans l'aventure, le fun sera là.
Test Lara Croft and the Temple of Osiris (PS4)

›
Dossier publié le 14 août 2014
Lara Croft fait bien une apparition sur PS4 à la Gamescom 2014, comment s'en sort-elle ?
Médias du Jeu
Toute l'actualité du jeu sur PS4