Fiche de jeu / PS4 / Child of Light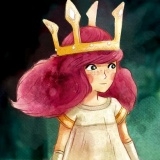 Test publié le 28 avril 2014
9 / 10
Verdict
C'est sans doute difficile à croire, mais le prix réduit de Child of Light ne cache rien d'autre qu'un titre d'exception à la réalisation de haut vol et au gameplay bien conçu. Bien sûr ce JRPG ne rivalise pas en termes de profondeur et de contenu avec certains concurrents nécessitant des années de développement sur l'archipel nippon, mais il offre suffisamment de poésie et de cohérence à tous les niveaux pour trouver sa place dans toute logithèque digne de ce nom. Que vous soyez ou non amateur du genre, nous ne pouvons que vous conseiller de craquer pour cette pépite signée Ubisoft : vous ne le regretterez pas.
Test Child of Light (PS4)

›
Dossier publié le 3 avril 2014
Un récit initiatique inspiré des contes de notre enfance et illustré comme une peinture vivante.
Dossier publié le 25 mars 2014
Entrez dans le nouveau monde imaginé par Ubisoft.
Médias du Jeu
Toute l'actualité du jeu sur PS4