Fiche de jeu / PS4 / Call of Duty Advanced Warfare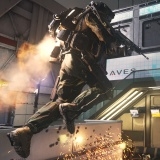 Call of Duty Advanced Warfare
Plateforme : PS4 et PSN

Date de sortie :

04/11/2014

Développeur :

Sledgehammer Games

Distributeur :

Activision

Genre :

FPS

Nb de joueurs :

1 à 16

Alias :

Call of Duty : Advanced Warfare
Test publié le 5 novembre 2014
8 / 10
Verdict
Sans révolutionner la série Call of Duty, Advanced Warfare a au moins le mérite de la faire évoluer en y ajoutant une verticalité qui ne dénature en rien la recette de base et permet de varier les plaisirs dans les modes multi. Avec en outre un mode solo plus accrocheur et conséquent qu'à l'accoutumée, quoique toujours assez dirigiste, et une technique de haut vol, il est clair que Sledgehammer nous offre là un opus de qualité qui ouvre la voie à d'éventuelles innovations pour les futurs épisodes de la série. On a hâte de voir la suite !
Test Call of Duty Advanced Warfare (PS4)

›
Dossier publié le 2 octobre 2014
Nous avons pu goûter au nouveau Call of Duty, l'épisode du renouveau dans la continuité.
Dossier publié le 4 août 2014
Découvrez notre dossier pré-Gamescom 2014 avec les titres jouables ou encore les annonces attendues du 13 au 17 août prochain
Dossier publié le 18 juin 2014
Retrouvez le résumé de la démo de l'E3 2014
Médias du Jeu
Toute l'actualité du jeu sur PS4
Le forum du jeu