Fiche de jeu / PS3 / God of War : Ascension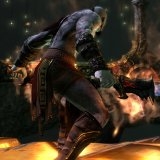 Test publié le 7 mars 2013
9 / 10
Verdict
Une fois de plus Santa Monica procède à quelques ajustements de gameplay et nous offre une aventure dans la droite lignée des précédents God of War. Les grincheux crieront au scandale en pointant le manque de nouveautés et en blâmant les modes multijoueurs qui ont sans doute bénéficié de la majeure partie du temps de développement, tandis que les fans de la première heure seront simplement ravis de retrouver un Kratos au meilleur de sa forme et toujours aussi jouissif à prendre en main. Quoi qu'il en soit God of War : Ascension est un titre incontournable pour les fans de beat-em-all, qui profiteront là d'un gameplay toujours aussi accrocheur et d'une réalisation de toute beauté !
Test God of War : Ascension (PS3)

›
Dossier publié le 13 mars 2014
Le réseau Fnac Gaming vous propose un dossier qui compare les Jeux Vidéo à la réalité et sur l'avenir de notre industrie : Est-ce que la fiction va rattraper la réalité ?
Dossier publié le 31 décembre 2013
En cette veille de Nouvel An la rédaction fait le point sur l'année qui vient de s'écouler et se tourne vers l'avenir.
Dossier publié le 31 décembre 2012
Après les Top 5 personnels de nos rédacteurs pour 2013, la rédaction de PlayFrance vous livre ses cinq jeux les plus attendus pour la nouvelle année.
Dossier publié le 14 juin 2012
Comme chaque année, l'E3 nous réserve son lot de surprises, bonnes comme mauvaises. Retour sur les principaux enseignements de cette édition 2012.
Dossier publié le 24 mai 2012
Comme chaque année, PlayFrance vous livre ses pronostics sur les futures révélations du plus grand salon de jeux vidéo au monde.
Médias du Jeu
Toute l'actualité du jeu sur PS3