Fiche de jeu / PS3 / Call of Duty : World at War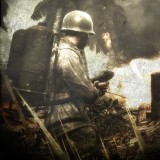 Call of Duty : World at War
Test publié le 11 janvier 2009
8 / 10
Verdict
Il faut bien l'avouer, ce retour à la Seconde Guerre Mondiale opéré par la série Call of Duty n'est pas des plus heureux. Non pas que la dernière production de Treyarch soit catastrophique, le moteur de Modern Warfare assurant toujours le spectacle, mais le thème et les situations rencontrées paraissent finalement bien trop familières pour réellement captiver le joueur. En outre, la durée de vie de la campagne solo reste très faible même si on peut se consoler cette année avec le sympathique Nazi Zombie. On note tout de même la présence de modes multijoueurs plus étoffés, avec la possibilité de jouer la campagne en coopération et un mode en ligne quelque peu enrichi. Bref, si World at War n'est pas aussi étonnant qu'on l'espérait, il s'impose tout de même comme le meilleur Call of Duty consacré à la Seconde Guerre Mondiale !
Test Call of Duty : World at War (PS3)

›
Dossier publié le 21 octobre 2008
Toujours impressionnant en vidéo, le nouveau Call of Duty ne s'était jusqu'ici pas dévoilé aussi clairement que mercredi dernier lors de notre dernier voyage londonien.
Dossier publié le 23 juin 2008
C'est dans la belle ville de Londres qu'Activision a dévoilé pour la première fois, le nouveau Call of Duty. Ne l'appelez pas COD 5 mais plutôt Call of Duty World at War !
Toute l'actualité du jeu sur PS3
Le forum du jeu