Fiche de jeu / PS2 / Zone of the Enders 2 : The Second Runner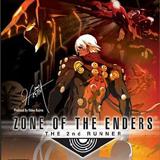 Zone of the Enders 2 : The Second Runner
Test publié le 26 septembre 2003
8.5 / 10
Verdict
Zone of the Enders 2, c'est le premier épisode, en plus beau, plus complet, plus stylé, plus jouissif…. Mais pas plus long. Il est tellement meilleur que son prédécesseur qu'il s'agit d'une suite sans l'être réellement. Des sensations ressenties durant le jeu au scénario qui nous embarque sur les traces d'une histoire intéressante, tout en passant par une réalisation somptueuse, Kojima et son équipe ont réalisé là un véritable coup de maître. Bravo.
Test Zone of the Enders 2 : The Second Runner (PS2)

›
Dossier publié le 27 novembre 2008
A l'approche de Noël, la Rédaction vous propose un petit récapitulatif des packs PS2 disponibles en cette fin d'année, ainsi qu'une liste de jeux à ne pas manquer.
Médias du Jeu
Toute l'actualité du jeu sur PS2